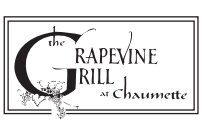 At Chaumette, we believe that more than just our wine is a reflection of who we are. Our culinary program is headed by Executive Chef Rob Beasley, who has been sourcing ingredients locally for over fifteen years and continues to do so at Chaumette, providing our guests with a great farm-to-fork culinary experience.
Chef Rob describes his cooking style as, "New American with Cajun-Creole-Southwest influences."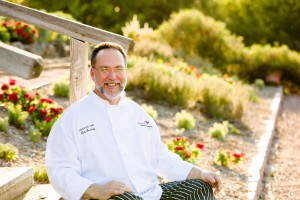 Grapevine Grill Hours
April – October:
Lunch: Wed. – Sun.: noon-4pm
Dinner: Thurs. – Sat.: 5pm-8pm; Sunday: 5pm – 7pm
November – March:
Lunch: Thurs. – Sun.: noon-4pm
Dinner: Thurs. – Sat.: 5pm-8pm
Reservations are strongly recommended for our restaurant.
Tasting Room Hours:
April – October: Wed. – Sun.: 11am-5pm
November – March: Thurs. – Sun.: 11am-5pm
Chef Rob grew up in Louisiana and was inspired by his two grandmothers at a young age. His one grandmother lived in the city and followed the latest cooking trends, and his other grandmother owned a farm in Louisiana and specialized in Cajun and Creole cooking.
Chef Rob is classically trained with a degree at the Culinary Institute of America Hyde Park. He has over twenty-five years of experience as an executive chef and proprietor in St. Louis and Des Moines area hotels. In St. Louis, Chef Rob was the Executive Chef at Pairings Bistro and the Hilton at the Ballpark, previously held a corporate chef position at Charlie Gitto's, worked for Proprieter/Chef Bill Cardwell at  Cardwell's at the Plaza and worked for Executive Chef Rex Hale at LHM Hotel Properties. In Des Moines, Iowa, he was executive chef and proprietor of Mojo's on 86th, Varsity Café and Adam & Abby's. 
Cajun Night Thursdays at The Grapevine Grill
Come enjoy a Cajun-inspired dinner with us every Thursday, designed by Louisiana-born Exec Chef Rob Beasley, nicely priced for our friends who like to visit us during the week! These Cajun featured dinners are served with a seasonal salad and cost $15. Cajun Night features are offered in addition to our Grapevine Grill menu Thursday evenings. Click here to see our weekly Cajun features. Hope to see you there!
Thank you for understanding we require all food & beverage consumed at Chaumette be purchased from our staff. For non-restaurant dining, please ask for our lighter fare menu.
We proudly support local farms within a thirty-five mile radius.