G

rapevine
Grill
✻
While at the winery, dine with us at our Grapevine Grill Restaurant, and enjoy a welcoming, relaxing and exceptional culinary experience.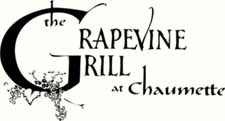 At Chaumette, we believe that more than just our wine is a reflection of who we are. Our culinary program has been headed by Executive Chef Adam Lambay for the past six years, whose goal is to appeal to a wide audience by focusing on the overall tasting experience for each dish, matching visual appeal and taste. "A balance of all the senses is the fundamental component of a good dish. The dish must not be overdone in presentation but should be straightforward, appealing and suggestive of its taste." Contemporary American is the most befitting category for Chef Adam's menus with French, Indian, Asian and Italian influences.
Classically trained and a Zagat award-winner, Chef Adam and has spent the past decade "chef-ing" at such St. Louis favorites as Café Mira, 12 North Café and Portabella Restaurant, and he is a regular chef instructor at Kitchen Conservatory in Clayton. Chef uses local foods whenever possible from about twenty nearby farms within a 35-mile radius, while he cultivates herbs and produce in our own gardens and greenhouse nearly year-round.
Follow @AdamLambay
on Twitter.
Below are our lunch & dinner menus. Here are printable versions: Lunch Menu and Dinner Menu. Enjoy special menus for our Family, Friends & Neighbors Night on Thursdays, and join us for a featured steak special for Steak Night on Fridays. Click here for in-villa breakfast packages.
We proudly support more than twenty-five farms within a thirty-five mile radius.